San Francisco

http://www.chaperon.com


http://www.goldengatebridge.org


San Francisco és ciutat de pel·lícula. Carrers amb pendent, tramvies, platges o la preso d'Alcatraz poden fer-nos sentir una mica protagonistes de qualsevol sèrie de televisió.
Quan pensem en San Francisco de seguida ve a la memòria la imatge del Golden Gate Bridge sobre la badia (és una de les deu construccions més importants del segle XX).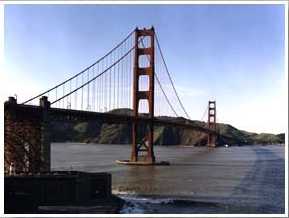 En podem moure per aquesta ciutat a peu, en bici, en tramvia (cable car) o en vaixell i viurem diferents ciutats en una sola.
Ens podrem encantar a Union Square (plaça central), Chinatown (barri xinès més gran d'Estats Units), North Beach (barri italià), Fisherman's Wharf (moll de pescadors), etc.
No podem deixar-nos el Lombard Street, carrer per on circulen els cable car i que porta a la part més alta de la ciutat.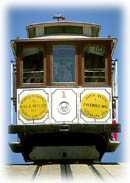 Si ens en queden ganes podem arribar-nos fins a l'illa d'Alcatraz per visitar la presó.
Des de Sant Francisco podem anar a conèixer: Muir Woods, únic bosc de sequoies costaneres amb arbres de més de 1000 anys d'edat. Les valls de Napa i Sonoma famoses pels seus vins. Sausalito, poble que sembla copiat de la costa italiana o la ciutat universitària de Berkeley.
Amb San Francisco hem començat el nostre llarg viatge per EEUU.


San Francisco
San Francisco is like a film city. Slope streets, cable cars, beaches or the Alcatraz prison make us feel how TV serial protagonists.
When we think or hear San Francisco we remember the Golden Gate Bridge image (one of the top ten constructions of the 20th. century)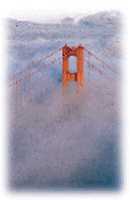 We can move in this city on foot, by bike, by cable car or by ship, and we will live different cities.
We will walk on Union Square, Chinatown (biggest quarter chinese of the USA), North Beach (Italian quarter), Fisherman's Wharf, etc.
We can't forget Lombard Street where circulate cable cars and take to the highest part of city.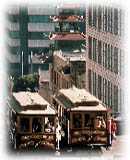 If we want we can go to the Alcatraz Island and visit the prison.
From Sant Francisco we can go to Muir Woods (this wood has very old trees), Napa and Sonoma Valleys (famous wines), Sausalito (twon like Italian towns) or Berkeley (very important university)
In San Francisco we have started our long trip along the USA