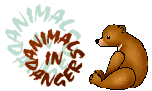 Complete the text about giraffes. Choose a word from the list, then check your results.

What are Giraffes?

· Giraffes are the animals in the world as they can grow up to 19 feet tall.
· Giraffes have very long so that they can reach leaves on trees.
· They have two small horns on top of their
· People can tell giraffes apart by their which are never the same.
· They live in groups.

Where/When can we see Giraffes?

· Giraffes come from where they live on open ground called 'savannahs'.
· You might be able to see giraffes in your local or wildlife park.
| | |
| --- | --- |
| | Back to the animals in danger page |

to main page