Maria went to Siena, the Italian province of Toscana , with all her friends of the School. Her teacher Joana likes very much the Art, and she always explains stories of Music, of painting... One day it was a school meeting. All the parents, the teacher Joana and the director of the School decided to make a trip to Siena, where the italian teacher Jacopo will meet them.
Maria studies the piano because she loves the Music, and she wanted to learn how to illuminate the medieval score. She told her idea of all her class friends and everybody was in agreement to do it, because they sing in the choral and love the music like Maria.
Do you like to make a medieval score with Maria?
If you want, follow step by step everything that Maria and her friend have done with the help of their teachers Joana and Jacopo in a very sunny day of March.
- Jacopo is very likeable, he is brown with blue eyes and he makes us laugh - says Maria.
- Joana also is very likeable, but sometimes she makes us work a lot and uffff- says Peter.
Let's go!! We are going to make the score that already we have desire.....

First they visited the Duomo with his Campanile (the cathedral and his bell tower). There were many children even students of the high level…They were very happy because they have met a new Italian friends and later they will send an e-mails to them and will say that the italian children are very good friends.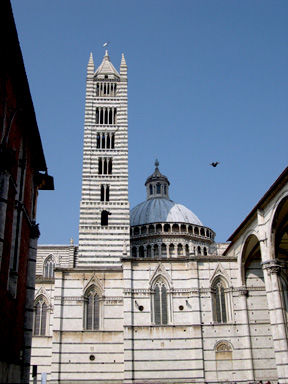 Ah! I forgot to tell you that Peter is the naughty of the class, all the time he goes behind Jacopo because he says that Jacopo tells jokes to him and that he knows to make magic... It will be truth or another prank of Peter?
When they entered in the Duomo , Maria remained with the open mouth watching the columns so high. She listened a very near noise to Jacopo. He approached to Pedro and he whispered words to them to ear; in that moment Pedro remained with the very open eyes and Pedro kept during hours. And this is very strange. Maria doesn't know very well what have impressed so much to Peter...
They entered in the Library, in the left ship of Duomo. It is a room where can be seen a lot of scores.
They left the Duomo and went to walk by the city in order to see the famous "Piazza d'Il Campo", this is a very big square Ah!! And moreover it makes a slope...
So, after eating the best ice-cream, they went to the Jacopo school.
If you want we can enter together and draw a medieval score.
Do you want to come with us?