Dave Sperling Presents....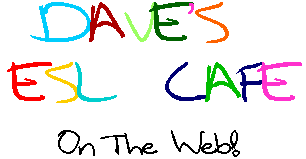 Where Learning English is Fun!
For ESL/EFL Students and Teachers from Around the World


"Time is a great teacher, but unfortunately it kills all its pupils."

Hector Berlioz

Wednesday, April 29, 1998

ESL Cafe News

Address Book | Bookstore

Chat Central | Discussion Center

Frequently Asked Questions | Graffiti Wall

Help Center | Hint-of-the-Day | Idea Page | Idiom Page

Job Center | Mailing List | Message Exchange | Phrasal Verb Page | Photo Gallery

Question Page | Quiz Center | Quote Page | Slang | Student Email | Teacher Email | T-shirt | Web Guide

Announcements:

Happy Birthday to Benjamin!

Happy birthday to Benjamin Sperling, who turns 7 on May 3rd!
The Web Guide is Back!

Dave has finally repaired ESL Cafe's Web Guide, the Net's most comprehensive ESL/EFL search engine.
Sponsor Dave's ESL Cafe!

Because of increasing costs, Dave Sperling has decided to allow Sponsors on many of the pages of the Cafe. Publishers, schools, companies, and organizations can now promote their products and services on one of the world's most popular ESL/EFL Web sites. For more details, please e-mail Dave Sperling at sperling@eslcafe.com.
Meet Dave in New Jersey, Chile, and Bolivia

Dave will be speaking at the NJ-TESOL Conference on May 19-21; the IATEFL Conference in Santiago, Chile on May 23; and the Binational Center in La Paz and Santa Cruz, Bolivia on May 28-30.
ESL Cafe's Hint-of-the-Day is Open!

Thanks to the hard work and creativity of Dennis Oliver, ESL Cafe is happy to announce the grand opening of the Hint-of-the-Day, where students can learn a new hint on how to learn English, including help with grammar, pronunciation, spelling, punctuation, and more!
Dave's New Book is Out!

Dave's latest book, 'Dave Sperling's Internet Guide,' is out and available from Prentice Hall Regents. Order by calling 1-800-947-7700.
Wandering the Web!

Dave's ESL Cafe was recently featured in Christine Meloni's excellent coumn Wandering the Web, published in TESOL Matters.
Games Anyone?

Test out some new ESL Cafe word games! We've got a section for Animals, and a section for Plants.
---


Add your name to the ESL Address Book, a growing database of students, teachers, publishers, and schools.
---
Before you shop anywhere else, surf over to the ESL Cafe Bookstore, an amazing collection of ESL/EFL material from Amazon Books.
---
Chat with students and teachers throughout the world at ESL Cafe's Chat Central.
---
Discuss a variety of topics at the ESL Discussion Center, a series of 30+ forums for both students and teachers.
---
Everything new about Dave's ESL Cafe can be found at ESL Cafe News.
---
For the answers to most of ESL Cafe's common questions, surf over to the Frequently Asked Questions Page.
---
Get your paintbrush out and add some grafÞti to the one and only ESL Graffiti Wall.
---
Help is only a mouse click away at the ESL Help Center, where you'll receive help 24 hours a day from a team of ESL/EFL teachers from around the world.
---
Is there anything better than improving your English each and every day? That's why Dave created the Hint-of-the-Day
---
Jazz up your teaching by visiting the Idea Page, where students and teachers throughout the world can share ideas and suggestions on how to learn/teach English as a Second/Foreign Language.
---
Kick off the day by learning a new idiom at Dennis Oliver's Idiom Page.
---
Looking for a teaching position? Surf as fast as you can to ESL Cafe's Job Center, the #1 place on the Net for finding an ESL/EFL teaching job.
---
Most ESL Cafe fans join the Mailing List, so that they can receive the latest ESL Cafe news and announcements.
---
Next on the menu is the Message Exchange, a general forum for exchanging messages with students and teachers from around the world.
---
On Dennis Oliver's Phrasal Verb Page, you can learn hundreds of useful expressions.
---
Please enjoy the photos of Dave and his family at ESL Cafe's Photo Gallery.
---
Questions have been answered by Dave Sperling since 1995 at his very own Question and Answer Page.
---
Revel in taking online quizzes at the one and only Quiz Center.
---
Satisfaction is guaranteed at ESL Cafe's fun Quote Page.
---
Tune up your street talk at ESL Cafe's Slang Page.
---
Unite with ESL/EFL students from around the world at ESL Cafe's Student and Teacher E-mail Connection Pages.
---
Valuable ESL/EFL resources are waiting for you at ESL Cafe's Web Guide, the premier ESL search engine on the Net.
---

This page is maintained by the one and only Dave Sperling. Send comments to sperling@eslcafe.com
Want to mail Dave? 1958 Matador Way #100, Northridge, California 91330-2100
Copyright © 1995, 1996, 1997 Dave Sperling. All Rights Reserved.
Last Modified Tuesday, 28-Apr-1998 07:16:46 PDT