DOCUMENTACIÓ
DOCUMENTS
DOCUMENTACIÓN
Passaport
Passport
Pasaporte
IDIOMA / LANGUAGE / IDIOMA
Japonès
Japanese
Japonés
MONEDA / MONEY / MONEDA
Yen / Yen / Yen
DIFERÈNCIA HORÀRIA
DIFFERENT TIME
DIFERENCIA HORARIA
Vuit hores
Eight hours
Ocho horas
CLIMA / CLIMATE / CLIMA
Clima humit, estiu calurós, amb molta xafogor i pluges. Hiverns secs i amb nevades a l'est. Primavera i tardor temperatures moderades.
Humid climate, hot and summer very sultriness with rain.Dry winter with snow in the East. Spring and autumn are warm.
El clima es humedo. El verano es caluroso y bochornoso con lluvias. Los inviernos son secos con nevades en la parte este. Primavera y otoño tienen temperaturas moderadas.
ROBA RECOMANADA
RECOMMENDED CLOTHES
ROPA RECOMENDADA
Roba lleugera, millor de cotó o teixits naturals, pantalons curts i samarretes. Calçat que sigui còmode. Impermeable i paraigües per les èpoques de pluja. Es convenient portar mocadors de paper ja que en els lavabos públics no hi ha paper higiènic.
To use light clothes made of cotton or natural weave, shorts and t-shirts. The shoes must be comfortable. Raincoat and umbrella if you go to Japan in rainny seasons. It's better to take paper tissues because in the public toilets there isn't toilet paper.
Ropa ligera, mejor de algodón o fibras naturales, pantalones cortos y camisetas. El calzado mejor que sea cómodo. Util llevar un impermeable y paraguas para las épocas de lluvias. Es conveniente llevar consigo pañuelos de papel ya que en los lavabos públicos no suele haber papel higiénico.
PROPINES / TIPS / PROPINAS
No és costum donar propines
It isn't usual to give tips.
No es costumbre dar propinas.
CONSELLS / ADVICES / CONSEJOS
Es pot beure aigua corrent sense por (té gust de cloro). El peix cru del sushi i el sashimi no són perillosos. S'ha de vigilar amb lar carn crua d'os i de senglar. La fruita convé pelar-la sempre.
You can drink natural water. Uncooked fish of the sushi and sashimi aren't dangerous. Be careful with uncooked bear and wildboar meat It's advisable to peel fruits.
Se puede beber agua corriente con toda tranquilidad ( tiene un fuerte sabor a cloro). El pescado crudo del sushi y del sashimi no son peligrosos. Debe, en cambio vigilarse con la carne cruda de oso y de jabalí. Es conveniente pelar siempre la fruta.
JAPAN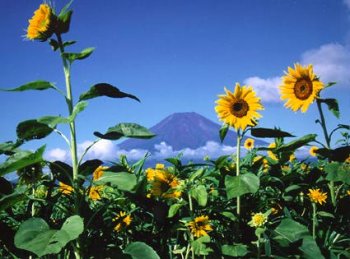 Adreces d'interès:
http://www.mt-fuji.co.jp
http://www.japan-guide
http://www.jynjapan
GASTRONOMIA
GASTRONOMY
GASTRONOMIA
La cuina japonesa és poc cuinada ja que s'ha de mantenir el gust natural dels ingredients.
Udon. Tallarines amb brou, ou i pasta de peix.
Chawan mushi. Flam d'ou fet de verdures, gambes i marisc.
Sushi. Arròs fred enrotllat amb fulles d'alga.
Sashimi. Filets de peix cru.
Shira-ae. Tofu saltejat amb llavors de sèsam i espinacs. Yakiimo. Pastís de batata amb gust de canyella.
Kohakukan-ume. Gelatina amb una pruna dins.
Sake. Arròs fermentat amb aigua, pot beure's calent però els de millor qualitat millor que es beguin freds. El sake no es pot guardar gaire temps.
Te. Te verd, mugicha, hojicha, genmaicha, sencha, gyokuro, matcha.
Japanese food is not very cooked, because the prefer natural tastes.
Udon. Noodles soup with an egg and fish.
Chawan mushi. Egg pie with vegetables, prawns and seafood.
Sushi. Cold rice wrapped with alga leaves.
Sashimi. Uncooked fish.
Shira-ae. Sauté tofu with sesame and spinachs Yakiimo. Sweet potato cake with cinamonn taste.
Kohakukan-ume. Gelatin with a plum inside.
Sake. Rice and water fermented. You can drink it hot or cold. It's better don't keep it long time.
Tea. Te verd, mugicha, hojicha, genmaicha, sencha, gyokuro, matcha.
La cocina japonesa está poco cocinada ya que se procura mantener al màximo el sabor natural de los ingredientes.
Udon. Tallarines con caldo, huevo y pasta de pescado.
Chawan mushi. Flan de huevo con verduras y marisco.
Sushi. Arroz frío enrollado en hojas de alga.
Sashimi. Filetes de pescado crudo.
Shira-ae. Tofu salteado con semillas de sèsamo y espinacas.
Yakiimo. Pastel de batata con sabor a canela.
Kohakukan-ume. Gelatina con ciruela en su interior.
Sake. Arroz fermentado con agua, puede beberse caliente pero el de mejor calidad es mejor que se beba frío. El sake no puede conservarse demasiado tiempo.
Té. Té verde, mugicha, hojicha, genmaicha, sencha, gyokuro, matcha.
LLOCS INTERESSANTS
PLACES TO VISIT
LUGARES DE INTERES
Osaka
Kyoto
Tokyo (Nikko, Kannon Temple, Shinkyo, Imperial Palace, Tokyo Tower)
Fuji Mount
Ise Shime Park
Jingu Temple
Nijo Castle
Hiroshima
COMPRES / SHOPPING
COMPRAS
Ceràmica, paper fet a mà (washi), jocs de caligrafia, objectes de fusta i bambú, umbrelles, gravats sobre fusta, teteres (tetsubin), jocs, quimonos, dolços (caramels i galetes)
Pottery, hand made paper (washi), calligraphy games, wood and bamboo objects, sunshade, pictures on wood, tea pots (tetsubin), games, kimono, sweets.
Cerámica, papel hecho a mano, juegos de caligrafía, objectos de madera y bambú, parasoles, grabados sobre madera, teteras (tetsubin), jeugos, quimonos, dulces (caramelos y galletas).