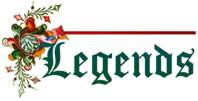 1. See how many of the following questions on the legends of King Arthur you can answer. Try and discuss them with a partner.

You may like to seek in the Web the information you need.


For various info on the characters, the battles, the historical background, Celtic beliefs versus Roman Christianity, etc. click here.


For info on King Arthur click here or here.


For info on Merlin click here.


For info on The Lady of the Lakes click here.


If you wish to tour Britain's magical lands click here.
Why do this?


To elicit your knowledge on the legends.


To motivate you for the reading.


For communication and reading purposes.