CyberListening Lab

The OWL Project

The author and acknowledgements
<![if !vml]>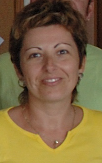 <![endif]>
My name is Núria Casas Martí and I'm from Tarragona. I've been working as a teacher at the Escola Oficial d'Idiomes of Tarragona since 1989. I've had the opportunity to work with all the different levels but I must confess my favourite are the higher levels.During this period I've also taught several teacher training courses, which have been really rewarding and enjoyable.
After so long I felt it was time for a change and I decided to develop a project: a set of ready-made online materials that could be useful both for teachers and students. In the section What is the OWL Project? you will find what it's all about. I hope you will find something you like. I've really enjoyed myself working on this project and one of my objectives is that students enjoy themselves while doing the activities, apart from learning, of course.
I wish to thank those who have given me their support throughout the development of this project:
- Josep Suller, for his technical support.
- Sara Barca and Aleix Elías, whose sound advice I have always followed.
- Josep Holgado (Universitat Rovira i Virgili), as my pedagogical Advisor.