honesty

If you search for tenderness
It isn't hard to find
You can have the love you need to live
But if you look for truthfulness
You might just as well be blind
It always seems to be so hard to give
Honesty is such a lonely word
Everyone is so untrue
Honesty is hardly ever heard
And mostly what I need from you
I can always find someone
To say they sympathize
If I wear my heart out on my sleeve
But I don't want some pretty face
To tell me pretty lies
All I want is someone to believe
Honesty is such a lonely word
Everyone is so untrue
Honesty is hardly ever heard
And mostly what I need from you
I can find a lover
I can find a friend
I can have security
Until the bitter end
Anyone can comfort me
With promises again
I know, I know
When I'm deep inside of me
Don't be too concerned
I won't ask for nothin' while I'm gone
But when I want sincerity
Tell me where else can I turn
Because you're the only one that I depend on
Honesty is such a lonely word
Everyone is so untrue
Honesty is hardly ever heard
And mostly what I need from you


---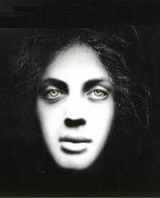 only the good die young
Come out Virginia, don't let me me wait
You Catholic girls start much too late
But sooner or later it comes down to fate
I might as well be the one
They showed you a statue and told you to pray
They built you a temple and locked you away
But they never told you the price that you pay
For things that you might have done.....
Only the good die young
You might have heard I run with a dangerous crowd
We ain't too pretty we ain't too proud
We might be laughing a bit too loud
But that never hurt no one
Come on Virginia show me a sign
Send up a signal I'll throw you the line
The stained-glass curtain you're hiding behind
Never lets in the sun
And only the good die young
You got a nice white dress and a party on your confirmation
You got a brand new soul
And a cross of gold
But Virginia they didn't give you quite enough information
You didn't count on me
When you were counting on your rosary
They say there's a heaven for those who will wait
Some say it's better but I say it ain't
I'd rather laugh with the sinners than cry with the saints
Sinners are much more fun...
And only the good die young
You say your mother told you all that I could give you was a reputation
She never cared for me
But did she ever say a prayer for me ?


---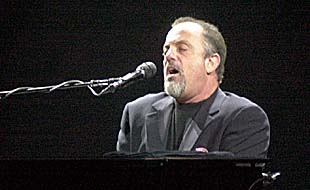 piano man

It's nine o'clock on a S____
The regular c____ shuffles in
There's an old man s____ next to me
Makin' love to his t___ and g__
He says, "Son, can you p__ me a m____?
I'm not r___ sure how it g___
But it's sad and it's s___ and I k___ it complete
When I wore a younger man's c___"
La la la, de de da
La la, de de da da da
Chorus:
Sing us a s___, you're the piano man
S__ u_s a song t____
Well, we're all in the m___ for a m____
And you've got us feelin' a____
Now John at the bar is a friend of m____
He gets me my d____ for f__
And he's q__ with a j__ or to l___ up your smoke
But there's s_____ that he'd r___ be
He says, "Bill, I b____ this is k____ me."
As the s___ ran away from his f___
"Well I'm s___ that I c__ be a m___ star
If I c__ get o__ of this p___"
Oh, la la la, de de da
La la, de de da da da
Now Paul is a real estate n____
Who n___ h__ t___ for a w___
And he's t___ with Davy who's still in the n___
And p____ will be for life
And the w____ is practicing p_____
As the b______ slowly get s____
Yes, they're s______ a drink they call l______
But it's better than d______ a____
Chorus
It's a p____ good c___ for a Saturday
And the m____ gives me a s___
'Cause he knows that it's me they've been comin' to see
To f_____ about life for a w___
And the piano, it s___ l___ a carnival
And the microphone s____ like a b___
And they sit at the bar and put bread in my jar
And say, "Man, what are you doin' here?"
Oh, la la la, de de da
La la, de de da da da


---
Harry Truman, Doris Day, Red China, Johnnie Ray
South Pacific, Walter Winchell, Joe DiMaggio
Joe McCarthy, Richard Nixon, Studebaker, television
North Korea, South Korea, Marilyn Monroe
Rosenbergs, H-bomb, Sugar Ray, Panmunjom
Brando, "The King and I" and "The Catcher in the Rye"
Eisenhower, vaccine, England's got a new Queen
Marciano, Liberace, Santayana goodbye

We didn't start the fire
It was always burning
Since the world's been turning
We didn't start the fire
No we didn't light it
But we tried to fight it

Joseph Stalin, Malenkov, Nasser and Prokofiev
Rockefeller, Campanella, Communist Bloc
Roy Cohn, Juan Peron, Toscanini, Dacron
Dien Bien Phu falls, "Rock Around the Clock"
Einstein, James Dean, Brooklyn's got a winning team
Davy Crockett, Peter Pan, Elvis Presley, Disneyland
Bardot, Budapest, Alabama, Krushchev
Princess Grace, "Peyton Place", trouble in the Suez


Little Rock, Pasternak, Mickey Mantle, Kerouac
Sputnik, Chou En-Lai, "Bridge on the River Kwai"
Lebanon, Charles de Gaulle, California baseball
Starkweather homicide, children of thalidomide
Buddy Holly, "Ben Hur", space monkey, Mafia
Hula hoops, Castro, Edsel is a no-go
U-2, Syngman Rhee, payola and Kennedy
Chubby Checker, "Psycho", Belgians in the Congo
Hemingway, Eichmann, "Stranger in a Strange Land" Dylan, Berlin, Bay of Pigs invasion
"Lawrence of Arabia", British Beatlemania
Ole Miss, John Glenn, Liston beats Patterson
Pope Paul, Malcolm X, British politician sex
JFK, blown away, what else do I have to say
Birth control, Ho Chi Minh, Richard Nixon back again
Moonshot, Woodstock, Watergate, punk rock
Begin, Reagan, Palestine, terror on the airline
Ayatollah's in Iran, Russians in Afghanistan
"Wheel of Fortune", Sally Ride, heavy metal, suicide
Foreign debts, homeless vets, AIDS, crack, Bernie Goetz
Hypodermics on the shores, China's under martial law
Rock and roller, cola wars, I can't take it anymore


We didn't start the fire
But when we are gone
Will it still burn on, and on, and on, and on...







---