IES la Bisbal is a Secondary School in la Bisbal, where boys and girls can study a large variety of courses, ranging from Compulsory Secondary Education (ESO) for 12 to 16 years old pupils, to post-compulsory studies and vocational courses on Business and Commerce for 16 to18 years old pupils.
We offer four different post-compulsory Baccalaureate branches:
Art and Design
Natural Sciences and Health
Technology
Arts and Social Sciences
Apart from the usual compulsory subjects we teach other complementary subjects such as Astronomy, Meteorology, Laboratory Techniques, Statistics, Computer Science, Music, Photography, Cinema and Video editing, Drama, Psychology or French as a second foreign language.
The origin of our school, founded more than thirty years ago, is a little academic centre where teachers prepared pupils to obtain their certificate of Baccalaureate at an official school in another town. Lateron, the town council of la Bisbal created a small Secondary School (CLA) where pupils were examined by teachers from another official school. The main building of our school was built at that time.
Eleven years ago, this old school became a state school founded by la Generalitat de Catalunya (the Autonomous Government in Catalonia). Our aim was then to prepare pupils for University studies. At the same time, a new vocational school was created in our town, in the former primary school building, whose aim was prepare pupils in different proffessions.
Three years ago our school changed once more. The Educational Authorities set up a new Secondary School by merging the two old schools: the Baccalaureate school and the Vocational school. At this year the number of pupils and teachers triplied, with new yonguer pupils. No new buildings were built. Only six little pre-fats buildings were put up in the middle of our football pitch. We have no assembly hall, gym or playground facilities, parking space, canteen, etc.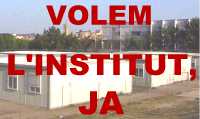 Thanks to the devoted work of all the teachers the new aims of the reformed education system are being met despite the appalling working conditions existing in our school.
Thanks to the mothers and fathers association (AMPA) we have good computer classrooms and we are able to train our students in computer science with didactic computer programs, word processors, spread calculus, data bases and Internet communication among other computer applications. Our pupils can't be physically together, but they all are virtually together by Internet.
We invite you to have a look at activities carried out by our students at school:
Study trips to Europe have been traditionally organised every academic year so that our students can have an opportunity to practice the two foreign languages (English and French) taught in our school.
We would like to get in touch with you . E-mail us. We are sure that our pupils will be happy to practise their languages with other European pupils and so between them they will bring European schools closer together.