To see
2 magnifying glasses, binoculars, a small camera in each eye, 2 telescopes, torch lights, cotton wool, light bulbs and security cameras.
To hear
2 walkie talkies, 2 speakers,2 funnels, 2 headphones and 2 radars. On each side of the robots head half a kinder egg a tape recorder so that when you speak your voice will be recorded 2 plastic ears and 2 champagne corks.
To speak
A radio inside it's head. From a little cassette I will record my voice and put the cassette inside the robot's head so that it can talk. I also need a banana skin, cables and a mobile telephone.
Tools used for the hands and to help us do jobs
2 spanners, 2 clips, 2 paint brushes, 1 rubber, 1 pencil sharpener, 3 crayons.
On one hand a spanner and on the other a hammer.
I will put some things that you usually use in the classroom on each finger. One hand can have a pencil, a paintbrush and a pair of scissors, and the other hand a tube of glue, 2 cutters and 2 bottles of tippex.
One remote arm .
Some forks, some pliers and some clips.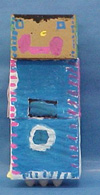 To walk
1 vacuum cleaner tube and two roller skates.
Take a bar and bend it in half and put some screws in it. At the end of the bar put some dolls shoes on so that they look like feet.
Like a mannequin it has legs that are articulated. It then needs some wheels with controls for the feet.
I'll pad it with cushions some on the knees and then some around the waist and then I'll push it.
2 Big wheels.
Some remote control wheels, part of a remote control car, electric wheels.
( clic the robot )