This is Michael. I am very pleased to have a pen pal in Spain because everybody I know seems to like this country. As you already know, I live in Paris but I was born in Heidelberg (Germany). Well you probably know Paris or, at least, you may have seen pictures of it so I would like to take this opportunity to tell you a few things about Heidelberg.
Heidelberg is a university town in the South of Germany near the well-known Black Forest. When I was little I used to ride my bicycle to go to school in the town because most of the streets are only used by pedestrians so this means that people can only walk or ride there.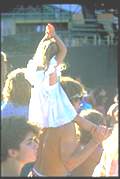 What makes Heidelberg picturesque is that there are a lot of water canals running alongside its narrow streets. So, when I was about 10, I used to take off my sandals in the summer and paddle in them. It made me feel GREAT!!! You don't do this sort of thing when you're an adult, do you?
What am I like? Well, firstly I can say I am quite outspoken and frank. I like meeting new people because I think you can always learn something from everyone. I'm hardworking and sensible. However, I must admit that I am very proud and a little absent-minded. My head is always up in the clouds!
You said you're quite a sporty person. Then I can safely say we're two of a kind because I enjoy jogging in the evenings and I also go to the mountains at weekends.
I'd also like to travel to Spain and I'd love to learn one of the languages there like Catalan or Basque. I'd also like to try the regional Spanish dishes (like the potato omelette or fabada) because they say it's healthy and tasty.
At the moment I am teaching German at a secondary school on the outskirts of Paris but I'm thinking of changing jobs because this one's TOO hard.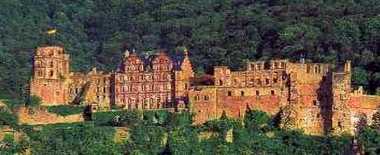 I am married and have one child of 5. She's a smart little devil! My wife's name's Juliette. She is French.
OK. I have to go now. It's time to cook supper for the family! Just something simple: a tomato salad and a veggie burger.
Write back whenever possible.
All the best, Michael
Ps: I am enclosing a picture of my family and one of Heidelberg. Please send me one of you too.