EL JOC DEL JAUME (5è A)
El Jaume Clota Albana de 5è A ens vol mostrar el seu nou joc fet amb Scratch. Us anima a jugar-hi i desitja que us agradi!
CINQUÈ ES TRASLLADA A L'EDAT ANTIGA
Divendres 7 de novembre l'alumnat de cinquè es va transformar en autèntics romans i romanes envoltats de la majestuosa muralla de la ciutat de Tarragona, l'amfiteatre, el circ, el fòrum, l'aqüeducte, etc. Sense cap mena de dubte, va ser la millor manera d'entendre i poder viure, encara que només fos per unes hores, la vida de l'Edat Antiga a la ciutat de Tàrraco.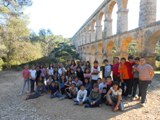 MONTSEC OBSERVATORY EXCURSION
On Friday, 30th October, at 8:00, 51 Primary 6th pupils, their classroom teachers, Tomàs, Jesús and Rosa and their English-Science teacher went on an excursion with four important aims: Avellanes monastery, Àger (cultivation field) medieval village, Saint Peter church-castle and Montsec (cut mountain range) Observatory.
We had worked very hard the four goals at school in English-Science classes, so the development of the trip was very quick and easy.
At Avellanes (hazelnuts) monastery (9:15-11:00) we explained the importance of monasteries in medieval times: opening new fields and innovating agriculture, copying old Roman texts and reinforcing the re-conquered territories defences. We explained them the characteristics of Romanesque style (cloister), Gothic style (temple) and Renaissance-Neoclassical style (entrance). We showed them the different characteristics of the interesting trees around the monastery: hackberry trees, cedars, firs, cypresses, oaks, jujubes.
In Àger (11:30-13:45) we divided the pupils into two groups and two guides explained the medieval village and Saint Peter church-castle. Pupils know in situ about two of the most important Lleida historical characters: Arnau Mir de Tost, conqueror of Àger and founder of Saint Peter, and Gaspar de Portolà, (we saw his grand parents house) the conqueror of California.
We had lunch by the observatory, we celebrated "Castanayda" and from 15:30 to 17:30 the same groups as in Àger with two more guides we saw the evolution of stars in the Planetarium and they opened the dome (semi spherical roof) of the Planetarium and we could observe the sun flares and stains projected on a screen. The guide showed the pupils how telescopes work when observing the sun.
We had an easy return trip and we got to Almacelles at 19:00, as programmed.
Pupils came back a bit tired, but very happy with the excursion.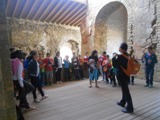 MUNICIPAL SWIMMING POOL GARDENS OBSERVATION
On Wednesday, 22nd October, pupils of Primary 5th went to observe the many different species of ornamental trees and bushes in the MunicipalSwimmingPoolGarden with their classroom teachers, Mercè and Imma, the experimental science teacher, Pilar Gascón, and the school environment coordinator, César.
The environment coordinator, with the inestimable help of Pilar Gascón and Ignasi Comella at the important moments of identification, had prepared an accurate power point presentation with many pictures, short explanations of the characteristics of those trees and bushes, and their English, Catalan and scientific names.
Pupils had four different sessions in their English or Science classes to prepare the scientific excursion. The projection of the power point was a very useful and motivating teaching material.
On the way to the Swimming Pools we observed the different trees we found in the streets, present too in the gardens to visit, to encourage their scientific curiosity and observation attitudes.
When we got to the Swimming Pools they could identify some of trees that had already seen on the power point projection or in the street observation with not much difficulty.
We worked mainly to identify the different types of coniferous trees or bushes in the gardens, by focussing on the similarities and the differences to discover the way to approach to scientific identifications.
The coordinator prepared too some computing activities to exploit the contents of the excursion and to make easier to remember the names of plants associated to clear pictures of the most typical characteristics of any type of tree or bush.
It was the first time that ENGLISH was used to develop this observation activity. Teaching materials, explanations and testing materials are in English, with the support of Catalan names. It has been a quite reasonably encouraging and successful activity.
Our school will develop all the excursions about environment in Primary 3rd cycle in English, in coherence with the fact of teaching pupils of this cycle some sessions of science in English.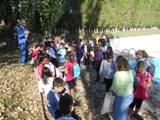 CREEM EL PRIMER JOC AMB SCRATCH
Si la setmana passada vam fer la nostra primera animació amb Scratch, aquesta, hem creat el nostre primer joc.
Si hi voleu jugar, heu d'intentar que no us agafi l'abella!!! Les fletxes del teclat us ajudaran a escapar.
Joc creat per Iker Martínez Lalana.
Bona partida i sort!
SCRATCH, MOLT MÉS QUE PROGRAMAR!
Els alumnes de sisè ens estrenem amb el programa Scratch i per celebrar la Code Week us volem ensenyar la primera animació que hem fet amb aquest programa.
Esperem que us agradi! Això només ha fet que començar!
LA VISITA DELS MOSSOS D'ESQUADRA A SISÈ
El dijous dia 2 d'octubre van vindre els mossos d'esquadra a fer una xerrada informativa als alumnes de sisè. Al principi ens van fer unes quantes preguntes: si teníem xarxes socials, vídeo jocs, si utilitzàvem el whatsApp...
Ens van explicar un conte de la cibercaputxeta vermella. El conte era de la caputxeta estava a una xarxa social, li va sortir una invitació del Justin Bieber però en realitat era un llop que se la volia menjar.
Ens van explicar que es millor tenir el facebook privat perquè si no et poden veure les coses que penges també et poden hackejar el facebook o la webcam.
Ens vanparlar dels riscos que hi ha a l'hora d'utilitzar una eina tan poderosa com és internet.
Estem molt contents que ens hagin vingut a visitar; va ser una xerrada interessant.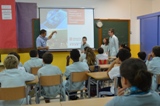 XERRADA: COM PODEM NAVEGAR SEGURS PER INTERNET?
Avui dia 2 d'octubre de 2014 han vingut els mossos d'esquadra a les classes de 5è per explicar-nos com navegar amb seguretat per la xarxa.
Durant la seva exposició ens han explicat, mitjançant el conte de la Caputxeta, actuacions que no hem de fer per la xarxa, per exemple: no xatejar ni donar les nostres dades personals a ningú.També hem de tapar la webcam amb un gomet o enganxina i si juguemamb algun joc i hi ha algú que ens diu coses dolentes, l'hem de bloquejar.
I una vegada finalitzada la xerrada hem arribat a la conclusió que hem de trucar al 112 davant de qualsevol problema, dubte o incidència a la xarxa.
Text escrit per Xavier Martín Pascual, Carla Morea Abella i Ángela Roda Maza.